2 Cousins Powered Access are committed to delivering excellent customer service and continually review internal processes seeking improvements. We work closely with our supply chain and stakeholders and we recognized that achieving certification would provide our business with credibility in terms of performance and efficiency.
To support and demonstrate this commitment, 2 Cousins have achieved registration to ISO 9001 with NQA, a leading UKAS accredited certification body.
Managing Director Jason Prisley said: "This is a testament to our teams commitment to providing a first class customer service, striving amongst many things to be an easy to deal with company".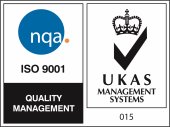 ---